The Consolidated Omnibus Budget Reconciliation Act (COBRA) benefit provision provides continuation of group health coverage that otherwise might be terminated.
---

Qualifying Events
Retirement
Voluntary resignation
Termination
Medicare entitlement
Loss of dependent status
Death of employee
Divorce
Reduced hours
Leave of absence

Health Coverage
You may continue your medical, dental, and/or vision insurance for up to 18 months, or longer depending on qualified events defined by McGriff Insurance Services. When you leave Wake Forest, your benefits will last through the end of the month in which you terminate. You will be responsible for the full premium payment, plus a 2% service charge.

Flexible Spending Accounts
You may make FSA contributions (plus a 2% service charge) on an after-tax basis after your employment ends. This continuation maintains your annual election amount for the remainder of the year.
Enrolling
If you are a departing faculty or staff member, you will be notified of your eligibility to elect COBRA through enrollment instructions mailed to your home address. The paperwork will come from our COBRA Administrator, McGriff Insurance Services, approximately 14 days after your termination date.
---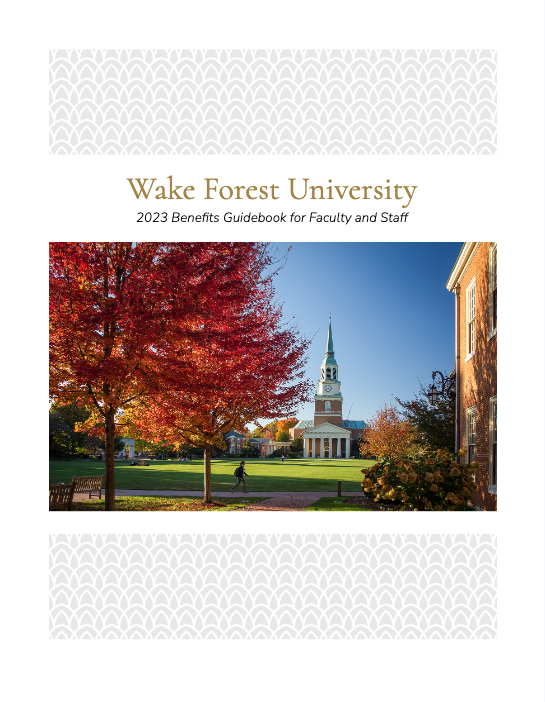 2023 Benefits Guidebook
The 2023 Benefits Guidebook for Faculty and Staff outlines benefits specific to the Jan. 1 through Dec. 31, 2023 plan year. The information included in the guidebook is intended as a benefit summary only.
Wake Forest University Human Resources
P.O. Box 7424, Winston-Salem, NC 27109 
askHR@wfu.edu |  P 336.758.4700 |  F 336.758.6127