Wake Forest University will be offering free flu shots to all faculty, staff, and retirees from Sep. 20 through Oct. 12. Spouses and dependent children (8 years and older), who are enrolled in the University's BlueCross BlueShield medical plan are also eligible.
Registration Help
If you need help registering, rescheduling, or canceling your flu shot appointment:

Contact the Faculty & Staff Clinic at 743.223.4217
Flu Shot Requirement:
By October 1, the University will determine whether the flu shot will be required this year. If required, faculty, staff and students will need proof of vaccination by Monday, Nov. 28, 2022.
Flu Shot Clinic Dates
WFU offers both walk-in and drive-through flu shot clinics on and near the Reynolda Campus. Registration will close three business days prior to the clinic date.
*Drive-Through Clinic Information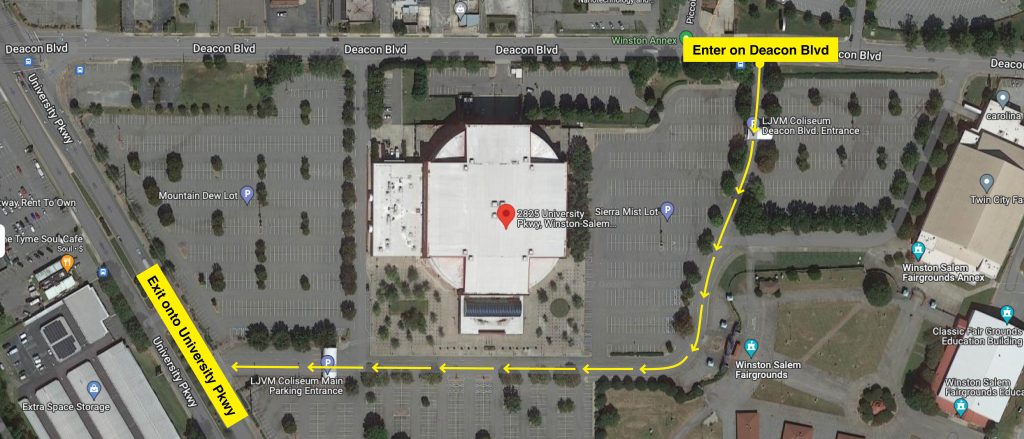 Click the image above to enlarge it. The drive-through clinics are located at at LJVM Coliseum (2825 University Pkwy, Winston-Salem NC 27105). Important: You will enter the parking lot via the Deacon Blvd. entrance, then exit the parking lot via the main Coliseum Pkwy entrance.
The drive-through clinic is not recommended for first time flu shots, for those who do not respond well to them, or for those that have anxiety about needles. The drive-through clinic requires the recipient to be seated at a window or door that can be opened.
---
Frequently Asked Questions
Reminders
Masks are required at all times (including others seated in the vehicle at drive-through clinics)
Faculty, staff, and retirees should bring their Deacon OneCard.
Spouses and dependent children should bring their BCBS insurance card.
Wear clothing that allows easy access to the upper arm.
All vaccines are latex and preservative free in single dose prefilled syringes.